Renegade Interviews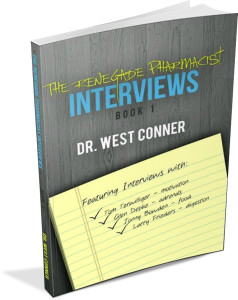 Thank you for your interest in "The Renegade Pharmacist Interviews, e-Book 1."  This volume contains four interviews with experts in their chosen field.
In the first interview, Tom Terwilliger discusses motivation.  I feel your desire and your motivation to change from where you are now to where you want to be in life is essential to your success.  Tom gives you these tools to plan and achieve what you want.
Glen Depke is an adrenal gland expert.  Not only does he lay out solutions for your issues, he guides you through his protocol for health.  The adrenals are more important than you probably think for your overall health.
When experts want an expert's advice about food, we turn to Jonny Bowden.  Jonny has more books in print than I care to count, all about food.  He tells you the foods to eat to turn your body into a fat burning machine.
If you aren't digesting your food properly, even the best eating plan goes to waste.  That's why I chose Larry Frieders to discuss digestion.  Larry is a fellow pharmacist with common sense "grandpa advice."  You will learn how to get the most out of the foods you consume.
***BONUS AUDIO***
If you prefer to listen to the interviews, you can download all four interviews (3 1/2 hours!!!) to listen at your leisure.
Download both the digital book and audio for just $14.99!